Discussion Clubs
Who discussion clubs are for:
Those who deal with customers in a formal or informal environment.
Employees who attend meetings or social events at which they need to make small talk.
Anyone who needs to respond quickly.
Those who want to train their critical thinking and teamwork skills.
Anyone who appreciates an excellent addition to their regular language course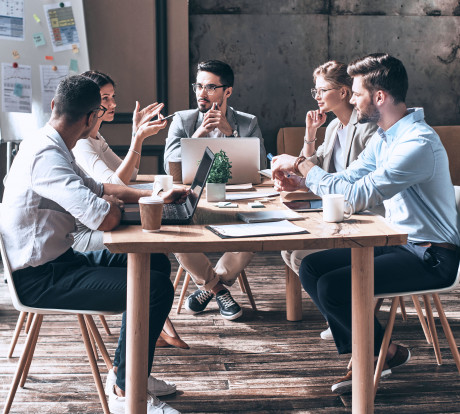 What you can look forward to:
Led by our TOP teachers.
90 minutes 1 × per month, max. 6-8 participants in a group.
The benefits of each discussion club clearly outlined.
Preparation material (questions, video, etc.) sent to participants 3 days in advance to get them thinking about the topic.
Materials and a summary of the discussion and vocabulary sent to participants afterwards.
Also available in other languages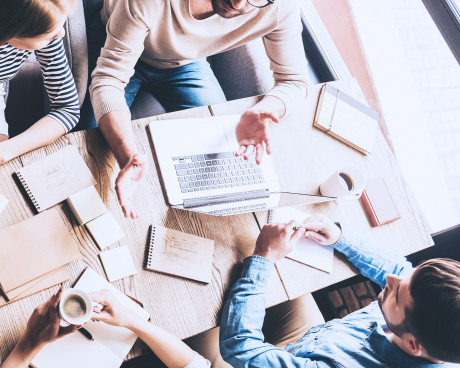 Work-Life Balance

In this session you will share experience on how you try to balance your work and your life outside of work. Share your tips and tricks, point out possible dangers and how to avoid them, and create a top 10 list of advice for having an effective work-life balance.

Creative Thinking

In teams, you will deal with common work tasks by 'thinking out of the box'; you will learn phrases related to expressing opinions, agreement and disagreement, as well as language related to creativity. In the final part of the session, there will be a focused discussion tasking participants to find a solution, discussing and presenting their ideas.

E-Communication vs

F2F Communication

You will deal with case studies in
communication and compare their effectiveness, solve problems and share your experiences. At the end, you will work together to create a list of best practices for e-communication and also for live communication.

Fake News vs Real News

As part of this discussion club, you will work in teams to analyse reports and decide whether they are fake news or trustworthy information. Together we will create a checklist to evaluate the objectivity of sources and debate the restriction of freedom of speech and access to information. 

My Own Company

As part of this discussion club, you will 'set up' small firms and progressively respond to various events and market developments. At the end, you will present your company Dragon's Den style to possible investors, and you will try to convince them that you are the one they should give their capital to.

Innovations and Technology

You will discuss the impacts of modern technology on employment and the business environment, challenges of the 21st century and how to cope with them. Working in teams, you will discuss and analyse case studies of companies that urgently need to innovate to stay competitive.
Another topics:
Travelling
Living Sustainably
Ethics in Business
Cross Culture: USA vs UK
Hiking and Travelling in the Czech Republic
It is possible to create a discussion club around any topic that you or your students desire, your imagination is the limit!
  Price
You can buy discussion clubs as packages:
1 session - 3 990 CZK
6 sessions - 20 990 CZK
If you are interested in more sessions, we will be happy to send you an
individual offer.
The price of a specific course is subject to an individual calculation based on the required parameters (topic, intensity, location, number of courses, etc.). The price always includes management of the course, including needs analysis, employee testing, the course itself, materials for participants, and course evaluation. Prices do not include VAT.