1215
Professional teachers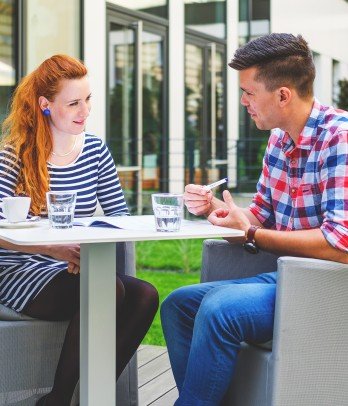 It is a pleasure to work with us
Tailor-made courses and reliable language services are the key to a better and more successful company life. That's why it is important for you to learn a foreign language quickly and effectively.
This is precisely what we offer. We specialise in corporate language training. We have developed processes, a methodology and quality which satisfies even the most demanding customer. We are a strong and stable partner providing comprehensive language services at reasonable prices.
When you work with us, you are working with the best in the field.
Our administration system is transparent and accurate.
We provide you with first-rate language services at fair prices.
We operate in Central Europe
Prague
Národní 416/37
110 00 Prague 1
Brno
Dům Jakub
Jakubské náměstí 127/5
602 00 Brno
Ostrava
Tieto Towers
28. října 3346/91
702 00 Ostrava
Mladá Boleslav
Václavkova 1115
293 01 Mladá Boleslav
We will be happy to visit you
Do you like our concept and feel that we are the right fit for you? Get in touch and we will be happy to contact you and come and talk about exactly what we can do for your company.
JCL has been providing our company with language services for a long time - specifically they provide us with language courses and translation. In general, we are very satisfied with the cooperation, the deadline of translation is always respected and sometimes we use the express service or with a notary public's verification and signature. If we have any specific requirements, JCL always comes up with a quality proposal for solutions.
HR Operations & Payroll Officer
The Insurance English course fully met our expectations. It was led by a professional teacher who was excellently prepared. A large part of the course focused on practical exercises with feedback, making the course very dynamic as well as highly beneficial. We have also completed the Czenglish, Business Meetings and Cross Culture courses with JCL and were just as satisfied with all of them.
Head of Recruitment & Development
JCL is a reliable partner that has lived up to the promises of the tender. I particularly appreciate the full administrative support, smooth operation of the courses and the excellent quality of the teaching team. Our communication with the company's representatives is quick and professional.
JCL has provided us with a comprehensive language teaching service, helped us streamline the process of assigning students to groups and reduced our administrative load. Thanks to the access to c.Port, I have everything under control at any moment. We have had excellent feedback on the company's teachers and I highly appreciate their flexibility and ability to adapt to all target groups, including our travelling managers. If you truly want professional language training, JCL is the right choice.
Learning & Development Specialist
We are very satisfied with the language courses from JCL. Our communication with JCL is quick and our cooperation is exactly in line with our requirements and needs. The courses are taught by qualified and professional teachers and we can always be sure that even our top managers will be satisfied.
HR Assistant and Office Manager
Cooperation with James Cook Languages was a step in the right direction for our company PepsiCo s.r.o. JCL services are always provided on time and of the highest possible quality. JCL employees are helpful and customer oriented. We are looking forward to the continuation of our cooperation.
HR Administrative Support
JCL takes perfect care of our employees' language training. Professionalism, the speed of the provision of the services and an individual approach are all a matter of course. We must also mention the administrative support and the cooperation when we were establishing our cooperation. A human approach combined with utmost professionalism is the ideal combination.
We've been working with JCL as our provider of individual and group language courses for many years. Given that our company places particular emphasis on security, we highly appreciate the stable team of teachers which has been carefully assembled to meet our needs. JCL teachers are true professionals who have been able to adapt to the multicultural character of our company. The JCL course manager helps me with all the administrative work related to the lessons and our cooperation with the JCL management is also very smooth. The communication with JCL is quick and our language training programme is exactly in line with our requirements and needs.
Learning and Development Specialist